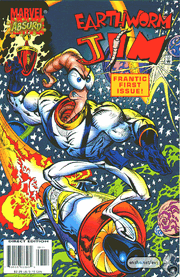 The Earthworm Jim Marvel comic books were a three-volume comic book series published in late 1995, based in the Earthworm Jim fictional universe.
Publication history
The comics were the result of a collaboration between Shiny Entertainment, the creators and owners of the franchise, with Marvel Comics in the mid-1990s, at the height of the popularity of the franchise. Due to the timing of the comics release, the comics incorporated much of the television series, but also retained much from the original game.[1][2] The|first volume of the Earthworm Jim comics was released under the "Marvel Absurd" imprint in December 1995. A total of three volumes were released over the following two months. To improve sales of the comic in the UK, a deal was made with some schools to play the cartoon series to students.[3]
Plot
The three volumes covered the "Heck Hath No Fury" story-arc, in which Evil the Cat gathers together all the greatest villains in the universe on Heck. This is done in an effort to pool their resources and finally defeat Earthworm Jim, and the Super Suit, once and for all. When they fail repeatedly, Evil the Cat unveils his ultimate weapon - the lawyers of Heck - and gets them onto the case to sue Earthworm Jim for collective damages done to the villains.
Trivia
Some additional background to various characters was added in the comic book mini-series. A prominent example of this is with Professor Monkey-For-A-Head, who is seen struggling to control the Super Suit upon its creation. It runs amok and annoys him in various ways, including "marrying [his] gram-gram." His grandmother, seen in the background of that particular panel, also appears to have a monkey grafted to her head.
References