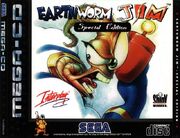 The Earthworm Jim Special Edition was released in 1995, a year after the original video game, of which it was essentially an updated version. The game's Special Edition was released for the Sega Genesis add-on, the Sega CD, and Windows 95, the latter of which was published by Activision.
It was based off the Genesis version, contained all of its levels, plus some extended section to the levels, such as New Junk City Part 2. There is also a completely new level added to the Special Edition, titled "Big Bruty", a new remixed CD audio soundtrack, as well as around 1,000 more frames of in-game animation.[1]
These versions were also the only ones to contain alternate endings when winning on the "Practice" or "Difficult" difficulties, in which a narrator rambles on about many (false) facts about worms or congratulates the player in a similar absurd manner respectively.
Another special edition of the game was released exclusively through the Sega Channel service for a contest dubbed The Great Earthworm Jim Race. This version included a secret room which, when reached by the first 200 players, would display a password and a toll-free telephone number. Those that called the number were awarded prizes. These included unique iterations of the toy line and The Artwork of Earthworm Jim. [2][3]
Gallery
Trivia
Reception
Like the original game, Earthworm Jim Special Edition received rave reviews. On GameRankings, the Special Edition has a rating of 90%.[4]
References
Community content is available under
CC-BY-SA
unless otherwise noted.