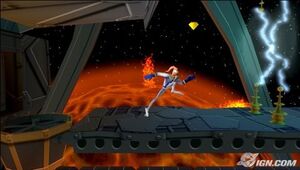 Earthworm Jim PSP was the working title of a cancelled installment in the Earthworm Jim video game series, first announced in 2006.
Developed by Atari, it was due to be released on the Sony PlayStation Portable (PSP) handheld game console. Numerous details of the upcoming game were released during this time.
However, in 2007 the game was cancelled late in its development, and it was never released.
History
Development history
Whereas the first two Earthworm Jim games were critically acclaimed, the creators of the franchise Shiny Entertainment had been acquired by Interplay, and Interplay's later Earthworm Jim 3D received a lukewarm reception. Rumors began to circulate that Interplay were enthusiastic to try the franchise out on newer handheld platforms.[1]
Earthworm Jim PSP was first announced at E3 2006 by Atari, which had obtained the rights to produce an Earthworm Jim game for a handheld console, and a deal with Sony had been made.
Atari announced that Earthworm Jim PSP would be a 2D sidescrolling platformer with elements of a run and gun, similar to the first two games, but now with 3D computer graphics. It would feature characters seen earlier in the franchise, including Queen Slug-for-a-Butt as an enemy, Peter Puppy as an ally, and Princess What's-Her-Name as a love interest for Jim.[2] Billy the Bin would also make a reappearance as one of the bosses.[3]
Anticipation for the game was heightened when the former Shiny Entertainment team responsible for the first two Earthworm Jim games were brought on board the project. This included Douglas TenNapel, Dave Perry, Nick Bruty, and even former game musician Tommy Tallarico.[4]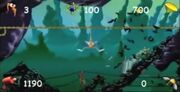 Early promotional gameplay footage for Earthworm Jim PSP showed[5] a first level similar to New Junk City, the first level in the original game, with even Fifi-like enemies. This led to some rumors that the game would be a remake of the original; however, although it was said that New Junk City was indeed going to be used along with a number of homages to the earlier games, Earthworm Jim PSP was not a remake, and would be its own game.[6]
By August 2006, Earthworm Jim PSP was reportedly at 80% complete, and more complete gameplay was shown in Las Vegas.[7] Many video game journalists had hands-on playable builds of the game, such as GameSpot,[8] GamesRadar,[9] and IGN.[10]
Features
New features would include non-linear, open world levels to explore, and an expanded arsenal of moves and attacks for Jim, including rocket boots for his Super Suit. Since Jim had spent so much time with the Super Suit, the Super Suit would have "learned" and adapted, becoming as flexible and stretchy as it's wormy head, and therefore able to be much more agile, and enter tiny spaces. In addition to the single-player story mode, there was also to be online and two-player modes.[11][12][13]
Similar to the original two games, the gameplay consisted of maneuvering Jim through levels through running and jumping, and defeating enemies with a machine gun-like Plasma Blaster, and by using his head as a whip. Many new features were planned as well. One was the ability to collect different parts for Jim's Super Suit, such as new gloves, boots, and armor.[14]
Some parts were used to make specific aspects of levels easier, such as the speed boost from the boot upgrade that made traversing a conveyor belt section of a level easier.[15] A two-player, competitive mode was to be included as well.[16] The player also possessed the option to, at any point in the game, make Jim start dancing.[17] For instance, the player can make Jim "do the worm", and make him crouch and fit into smaller spaces.[18]
The game was reported to have eight separate levels, although only two, "New Junk City", and the level referred to as "The Birds and the Bees" were specifically detailed. "New Junk City" was to be a remake of the level of the same name from the original Earthworm Jim game, where as "The Birds and the Bees" was a completely new level to be about Jim being trapped in a literal war between birds and bees. GameSpot described the level as "Jim is caught in the middle of a war between the birds and the bees and will have to progress through an increasingly complex level that's design is inspired by the old mousetrap board games. In other words, something Jim does that affects something in one part of a level will fan out and be felt by the complex machinery somewhere else in the level."[19][20]
Troubles and cancellation
Earthworm Jim PSP was initially scheduled for a late 2006 release, but this was pushed back to early 2007. When the time came around, the release was extended again to mid-year 2007. This caused concern for expectant fans, since the game had already been delayed once already.[21]
In response to this fan concern, Andrew Yoon of PSP Fanboy contacted Alissa Bell from Atari, who confirmed the game had been shelved, commenting: "I believe EWJ PSP is off the roster. May be revisited in the future, but the title is, as I hear it, on hold."[22]
Fans were generally excited about the Earthworm Jim revival, which makes it surprising why Atari would stall the project. The complicated transfer of Shiny Entertainment from Interplay to Foundation 9, and merging with The Collective to form Double Helix, may have been a contributing factor in the decision to cancel the game.[23]
According to Dave Perry, it was due to both Atari and Interplay's financial difficulties,[24] and a row over royalties between Shiny, Interplay, and Atari.[25]
Gallery
References
Community content is available under
CC-BY-SA
unless otherwise noted.